In the design cluster D2i – Design to innovate, we are sharpening our focus with four new priority areas aimed at contributing to growth in Denmark.
Our design cluster consists of companies, organisations and knowledge environments working together on a strategic level with the goal of promoting growth and prosperity by means of design.
Since 2011, D2i has worked on the basic premise that design generates growth – and that companies using design to drive their business development are more profitable. Another aspect of our fundamental premise is that cluster formations are an effective business development tool. Thus, D2i combines design with cluster development and believes that companies engaged in clusters are more innovative.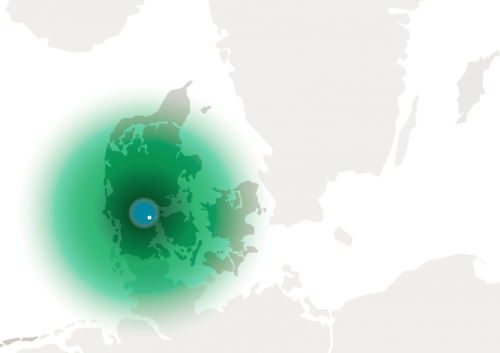 WHITE: The cluster organisation D2i
BLUE: Circle of partners (Design School Kolding, University of Southern Denmark and Capital of Children and others)
GREEN: Companies and organisations participating in cluster activities
The design cluster has a central cluster organisation located in Kolding. When we launch activities in the design cluster, we often do so in cooperation with some or all of the organisations in our circle of partners. D2i's circle of partners comprises companies, organisations and knowledge institutions, most of them located in the larger 'Triangle Region' around the towns of Kolding, Vejle and Fredericia. Companies and organisations from all over Denmark taking part in our activities are referred to as participants.
The design cluster includes actors on three levels (see the illustration above). Our current circle of partners includes Design School Kolding, the University of Southern Denmark, Capital of Children Office, Kolding Municipality, LEGO, ECCO, Dong Energy and the Region of Southern Denmark, among others.
Over the past four years, in cooperation with our circle of partners, we have embedded design competences in more than 575 companies, involving a total of 1,650 people. This has added to the number of innovative companies with innovative employees and leaders, providing more innovative products, services and business models. The impact includes higher turnover and earnings, improved productivity and value creation, increased exports and thus new jobs and added growth.
We have now evaluated the achievements of the first four years, acquired new learning and subsequently developed a new activity portfolio. Among the findings of our evaluation was that longer engagements provide more growth for the companies, and that linking up with specialised themes and industries is valuable for the companies.
Based on these findings, D2i is now working with four key focus areas: design in relation to sustainability; health and welfare services; play, creativity and learning; and design-driven innovation in manufacturing companies. These four themes promote the current strengths of the Region of Southern Denmark and are also characterised by significant international attention and relevance.
The new activity portfolio is going to include competence development in design-driven innovation aimed at management and staff. We are going to continue to host international design camps and increase our focus on entrepreneurial facilitation. We will be offering in-depth facilitation processes focused on sustainability and on the link between play, learning and design. We are also going to offer facilitation processes aimed at innovation across value chains and engage in development projects related to the complex challenges facing society. And, as a final point, we are going to offer design-driven business development activities for growth companies.
Our future activities are aimed at management, heads of development and staff in companies that are already used to working with design and ready to move on to the next phase as well as companies that are new to design-driven innovation.
If you would like to know more about the work and future activities of the design cluster, please contact Programme Director Jørgen Daucke, D2i.
T: +45 61 55 12 00
E: jorgen@d2i.dk